Black History Month Member Spotlight: Victor Brooks

February marks Black History Month, a nationwide celebration for achievements led by African-Americans. This is a time for us to not only honor individuals who have made history, but to recognize those creating history here in the philanthropic fundraising community. AFP Houston will be sharing blogs centered on Black philanthropy and fundraisers.
1.What is your vision for Black philanthropy?
When people think about philanthropy, they tend to focus on the eight- and nine-figure gifts and the names that they see etched on buildings across the city. Those generous contributions benefit many people and are absolutely wonderful, but those headline grabbing gifts have also narrowed the definition of what it means to be a philanthropist.

Anyone who donates their time, treasure, and/or talent to a charitable cause is a philanthropist. I would love to see an increased acknowledgement of the long history of Black philanthropists in Houston—from the former slaves who came together with $1,000 to create Emancipation Park (and the Third Ward residents that helped restore it) to today's Black philanthropists who provide a steady stream of support and manpower to countless community-based initiatives that are often unknown or overlooked by other philanthropic groups.

My vision for Black philanthropy is to make it more visible—more visible to regular people who have the potential to create an impact but don't know how.
2.What was your first encounter or most memorable experience of Black philanthropy within your family or community?
When I was about twelve, I had the opportunity to attend a national leadership camp. The trip was expensive, but without giving it a second thought, my family leapt into action and organized a fish fry. People from across my grandmother's neighborhood (and some random passersby) all came out to support me. We raised about $3,000 in one day. To date, the Brooks family was the best host committee / event staff / PR team I've ever worked with.
3.How long have you been an AFP member? Why are you an AFP member?
I have been an AFP member for five years and will continue to be a member because of the amazing relationships I have developed through our chapter. From day one, everyone I have encountered through AFP has been kind, helpful, and supportive throughout my career.
4.How long have you been working in fundraising?
Ten years! I've gone from grant writer to major gifts officer, and now I'm a consultant with Dini Spheris. Our field is so dynamic, you never know where you might end up.
5.What keeps you motivated at your organization?
Every day in consulting brings exciting things to learn and new obstacles. I've worked with organizations locally and out of state, from therapeutic horsemanship programs to major health systems and even a historic battleship!
6.Tell us about a fundraising accomplishment that you're most proud of.
Several years ago, I helped manage the philanthropic arm of the Houston Methodist Community Scholars Program. The initiative placed residents and fellows in local, traditionally underserved health clinics under the guidance of some of the hospital's best physicians. The patients received coordinated specialty care that was often unavailable in community clinics, and the trainees got real-world experience with a unique patient population.
7.If you could describe your job in one to two sentences, what would you say?
Every day, my team and I use all our research, our relationships, and the firm's fifty-one years of experience to help our clients reach their goals or solve a problem. No matter what it is, we dive in and figure it out!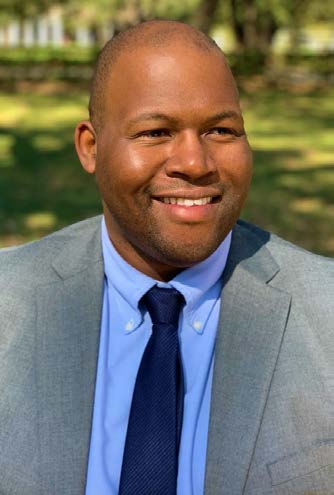 Victor Brooks 
Consultant 
Dini Spheris 
AFP Houston Board Member